This is a profile I've written about my Great-Grandmother Annie Prieur Vaillancourt. Annie had died before I was born, so I never had the opportunity to know her. I was always fascinated with the fact that she was a midwife. Through the information, I have garnered from my mother and Annie's youngest son Albert Vaillancourt I was able to put together this small profile.
A profile like this could easily be used in a Legacy book or weaved it into a larger narrative about the Vaillancourt Family.
Catching Babies
Annie started catching babies in 1908. Mrs McCormick, the neighbour, called on her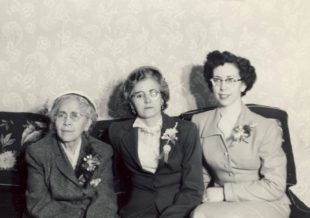 to help her with a delivery. Before long, she assisted with every birth in the surrounding area. It seemed to become a calling…God's purpose for her. Most were stories of joy, but not all. Some she held for only a few hours, some for minutes. Those stories Annie locked away like a soldier who witnesses the carnage of war never to be spoken.
Annie was 27 years old when she caught her first baby with two babies of her own. She had just settled into her new log cabin that her husband Edouard had built on 160 acres of land six miles outside the nearest village of Markstay in Northern Ontario. Most residents were poor farmers, including the Vaillancourt family. Their nearest neighbour two miles down the dirt road.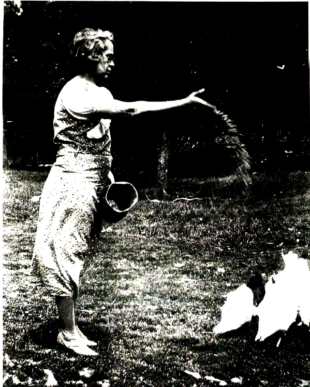 When Mrs McCormick retired, Annie became the local midwife, realising that was probably her plan all along. Soon, people counted on her, and she needed to be ready at a moment's notice. She kept a black bag stocked and ready for the next knock on the door. When it came, it's was usually in the form of an unnerved man. The men mostly arrived by horse-drawn carriage, in the winter by sleigh. As the years wore on, occasionally a car, but only in the summer and rarely, few families could afford such a luxury.
Each time, the father stood at the door while Annie gathered her tools. She pulled out her weathered black bag from underneath the bed, the smell of antiseptic seeping from it seams.  Next, she dragged out a jute potato sack that contained a heavy olive coloured clay bed-pan. The children who were within ear-shot lined up by the door for a kiss good-bye. The line grew long over the years – 10 in all.
The young ones asked, "Where's ma mère going?" Edouard answered, "To help a neighbour." The children often woke in the morning, their mother gone, relying on their father to have the porridge ready on the wood stove before they headed to school. They would get used to her sudden disappearances.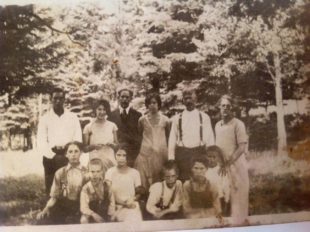 Getting to the rural homes in time was always frantic. On one occasion Mr Theriault arrived with his sled pulled by the family dog. Annie climbed on the back of the sled with the familiar potato sack and black bag. Mr Theriault tossed a blanket over her for warmth and tied her to the sled. She prayed to God to keep her safe.
A stern voice called out, "Home." The sled jarred forward, her head snapped back as she grabbed the sides of the sled. The dog bolted down the bush trail pulling Annie on the sled.  She looked back to wave a final goodbye only to see a look of horror on the children's faces. Mr.Theriault walked leisurely behind. She arrived long before him.
Annie returned home after several days of delivery and post-delivery care. Each time, spending the next few days in bed with a severe migraine caused by the fumes of the Lysol disinfectant.
Once recovered she returned to the daily routine until the next knock on the door. A couple days after each delivery, an appreciative father appeared at her doorway, a sincere, "Merci Madame Vaillancourt," with outstretched hands a dollar or two, sometimes a bag of potatoes or a couple of chickens.
Annie caught her last baby in 1939, at the age of 57, her body tired. She kept no records of how many babies she delivered over the years. Only God knows. The only ones accounted for are those who died in her arms and lay in small graves of the Markstay cemetery marked with tiny tombstones on them engraved a single word, Baby.