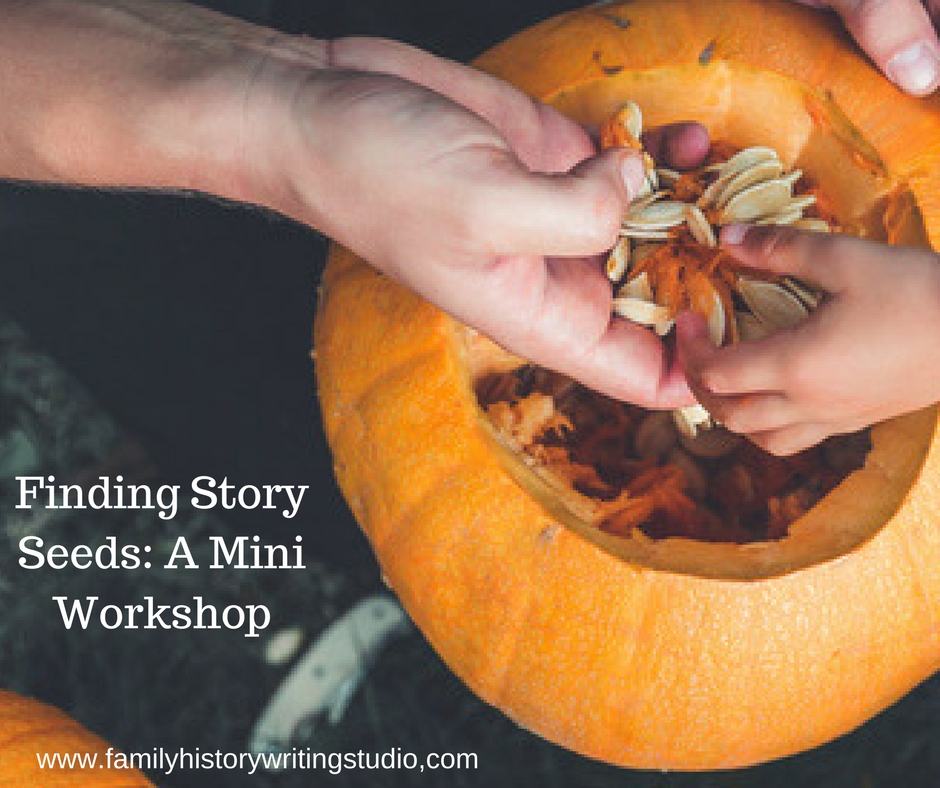 All too often when we think about writing our family history stories, we contemplate writing about those big story ideas. We want to write an ancestor's life story from birth to death. We think about writing our family history from as far back as we have researched to present day. These are pumpkins. Gigantic pumpkins.
Your family history might very well be an inspiring and insightful story. But when writing your family history, you don't always have to go big. Sometimes there are little seeds of stories buried within your research. I love those stories because they zoom in and show our ancestors in their most personal moments. These intimate moments will resonate with your readers.
Often, we have these pumpkin size ideas. Pumpkin ideas are cumbersome and hard to carry. They tend to wear us down. They are overwhelming. When you write about huge topics, you can tire out and lose interest. Huge topics can also be challenging to write, with so many aspects to consider. It's more fun to dig out the seeds than carrying around a big awkward pumpkin.
LET'S CARVE UP OUR PUMPKIN IDEA AND FIND THE SEEDS
For example, my mother's life story is a pumpkin size idea. It's a huge pumpkin with over 85 years of life to write about. Even if I break her life story down into subtopics, they can still be significant. Watch me do this with my mother. I jot down pumpkin-sized ideas in my notebook.
They might look something like this:
Growing up in Northern Ontario
Working on the Tobacco Farms in Southern Ontario
Married life and raising children
In my notebook, I have carved up my pumpkin and listed all sorts of things that were interesting about my mother's life, as you can see above.
Now that I've carved up my pumpkin, I begin to see the seeds and start to pull out those seeds.
Her first job cooking and cleaning for a family
The day she left home
Blueberry picking trips
Giving her baby sister her first bath
Cooking meals at the Poorhouse
Ohhhh, see that!? Now, these moments are starting to sound more like stories, and less like topics. You saw how I did that, right? Finding my seed ideas inside that big pumpkin of a life story.
Now, you may already have ideas that are somewhat specific. Maybe you've carved your pumpkin already instead of leaving it whole. But I challenge you to zoom in and pull out those small seeds.
NOW IT'S YOUR TURN TO FIND SEED IDEAS
Grab your writing notebook, and identify an ancestor you want to write about. This is your pumpkin idea.
Next, create subtopics, carve up that pumpkin, usually around time periods or significant events in your ancestor's life. They may look like this:
marriage
immigration
buying land
going to school
career
Next, take that carved pumpkin and pull out the seeds, those little ideas within those topics.
For example,
Immigration
Buying the ticket
Seeing North America from the ship for the first time.
Job
First day on the job
Receiving an award
Last day on the job
Marriage
A funny event at the ceremony.
First date
Marriage proposal
Seed ideas are usually memorable moments in a person's life, but they also can trigger random specific moments in their life that can hold significant meaning.
If you've been struggling to get your family history stories out, I'd suggest it could be that you're carrying too large of an idea. Every time you write, remember to zoom into your ideas, carve up the pumpkin and start to pull out those small seeds. A seed idea is quite fun and manageable to write about!
Go on, dig out those seeds and start writing.