What We Are All About
We believe in the power of the family history story. We believe that family history stories have the ability to educate, entertain and inspire our family members when crafted with time and attention.
The Family History Writing Studio is a learning environment for family historians and genealogists who wish to make the leap to family history writer and learn the skills necessary to write narrative nonfiction.
The Studio is designed to provide writers with a variety of learning options from writing descriptive events from their ancestor's lives to plotting a family history story or crafting an ancestor profile. We are committed to helping family historians get organised and overcome the overwhelming thoughts that come with learning the skills of writing family history stories. We'll assist all students in overcoming any obstacles that may be standing in their way.
The Family History Writing Studio is a multi-media website that provides a variety learning tools to meet the unique diversity of family historians. We realise that many of the online courses and writing material on the market today do not address the specific writing needs for family history narratives.
We also understand that not everyone learns the same way. Therefore we provide a variety of tools from eBooks to self-paced classes to online courses with exercises and feedback. If students are not comfortable with an online class environment private coaching is also available. We are also happy to bring our classes and workbooks to societies and writing groups in the form of in-person workshops.
Everyone has a story, whether it's your own or your ancestors. In the right environment and with the great tools, you can discover the power and passion for writing your family history stories.
Our Mission
Our mission at the Family History Writing Studio is to assist family historians who wish to transform their research into shareable, engaging, entertaining and inspirational stories in a positive learning environment. Our goal is to provide our students with specifically designed tools for the family history writer that will help them to develop their writing skills and craft stories that they will be proud to share with their family and preserve for generations to come.
What's in the Writing Studio
Workbooks - Our series of Family History Writing Workbooks are designed to build on one another. Each workbook looks at one aspect of writing your family history narratives. Filled with worksheets, they will help you apply the various elements of creative nonfiction to your own research and ancestors.
Webinars - On-demand webinars work nicely with our workbooks. They provide exercises and examples to expand on the workbook content. They are designed for you to watch over and again at your convenience. There will also be stand alone content, addressing a variety of needs family history writers face.
Courses - Our online courses are designed for writers who want to have a more in-depth look at a particular aspect of writing in a more intimate environment. Lessons will be delivered in a variety of formats from downloadable worksheets, workbooks and videos. All courses include private groups and forums to bring the class together for discussions and critiques with the teacher. Classes are small to provide a more personal learning environment.
Personal Coaching - If you're nervous about sharing in a group environment then personal coaching might be more your style. In our personal coaching section, Lynn offers a couple of options to work privately work with her, whether it be to brainstorm your story or book or for a critique of your written narrative.
The Family History Writing Studio is designed to meet the needs of individuals and writing groups. We're happy to adapt a plan to suit your genealogical society or writing group. See our writing group page for more information.
Meet Lynn
Lynn Palermo is a family historian and passionate family history writer. As the owner and writer of The Armchair Genealogist, it's here you'll find her most days blogging; offering readers practical advice on researching and writing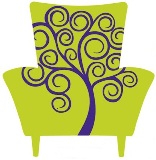 their family history.
As a freelance writer, she has written for Internet Genealogy, Discovering Family History and Family Chronicles. The Armchair Genealogist is named one of the Top 40 Genealogy Blogs by Family Tree Magazine. Her posts, on occasion, have been featured on The National Genealogical Society website along with other major websites across the web.
For the past 5 years, she has been coaching family historians in writing family history narratives in The Family History Writing Challenge. Lynn continues to expand her own knowledge of the craft of writing as she works through a Creative Writing Certificate with The University of Toronto. She also continues with her own writing endeavors of family history stories, ebooks, and a future commercial novel.
Lynn is the proud author of her family history book, The Waters of My Ancestors. Lynn has now combined her love for writing family history stories and helping writers in The Family History Writing Studio, expanding her workbooks series, to include webinars and online courses.
Join Lynn in The Family History Writing Studio, she's ready to help you write your stories.